Über die Osterfeiertage habe ich das schwarze Islandvlies vorschriftsmäßig sortiert (siehe Bild).
Sorting the black icelandic fleece was my Easter work (see pic).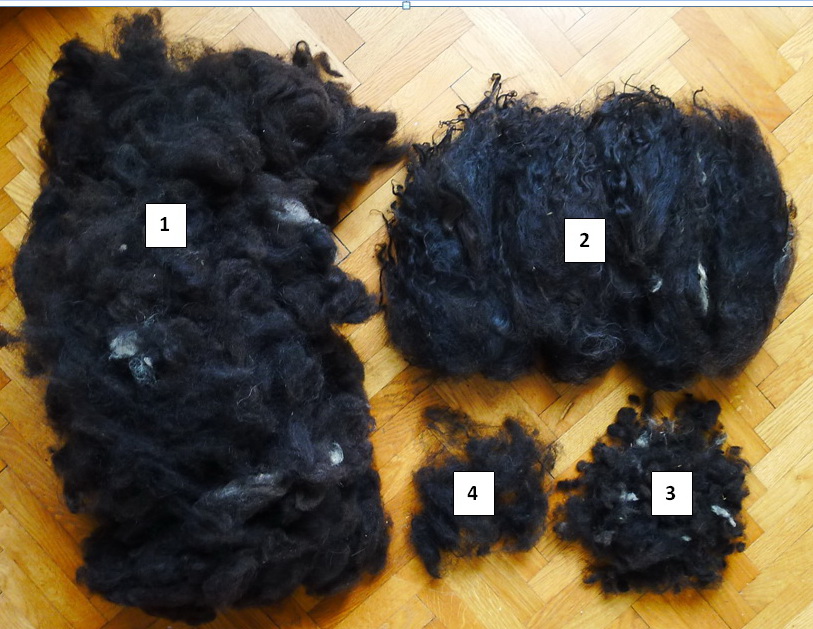 1: Unterwolle (thel)
2: Deckhaar (tog)
3: Weicher Kurzschnitt, gut für meine Filzbilder zu gebrauchen
4. Reste, die beim Entwirren aus den Locken herausgezogen wurden
1: Inner coat (thel)
2: Outer coat (tog)
3: Soft very short bits and nepps, good for my felt paintings
4: Leftovers from the outer coat
Das graue Vlies habe ich schon angesponnen - hier seht Ihr das Ergebnis.
I have already spun a bit of the grey fleece, here are the results.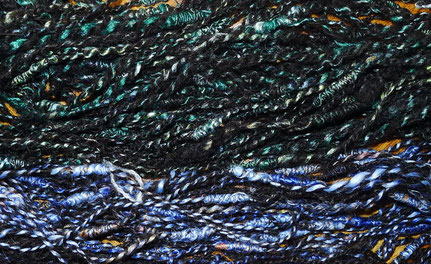 tog/singles
Gesponnen aus den Locken ohne weitere Vorbereitung
tog spun without previous processing
thel/stacks
Grün: thel singles verzwirnt mit thel + Rosenfaser + Bambus
Blau: thel singles verzwirnt mit thel + Milchfaser + Ramie
Green: thel singles plied with thel + rose fiber + bamboo
Blue: thel singles plied with milk fiber + ramie